<br />
<br />
<br />
<br />
<br />
[themify_button style="xlarge blue" link="https://www.eventbrite.co.uk/e/sundara-2017-tickets-32990464367?aff=ehomecard" target="_blank" text="#ffffff"]Book Now[/themify_button]
2017's Sundara gathering will again be held on the edge of the beautiful Forest of Dean.
The main focus of this gathering will be Yoga, Bhakti, Dance, Sacred sound, Singing, Shamanic journeying, karma yoga and enjoying the company of like-minded people together – and of course having fun. We already have some amazing teachers and facilitators lined up for this event. 
This is a family friendly gathering and there will always be plenty to do, with some quiet space if you need it. 
Three daily meals are provided within the ticket price and will be served in an ashram style. The food will be all organic where possible.
Everyone who takes part in this gathering may offer his or her service through seva/karma yoga and thus share giving, sharing, working and being together.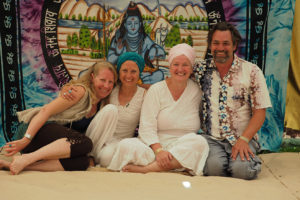 Of course Sundara community is strictly drug- and alcohol-free to keep the energies as conscious as possible and safe for everyone.
We are excited by all the positive responses from all who came last year and who can't wait to come again this year. We are still pleased to invite under 8's to the camp for free, and older children pay just £45.
JnT – In love and light John and Tanya
People
Har Nal Kaur is a Kundalini Yoga Teacher Trainer with Amrit Nam Sarovar International Yoga School and is based at the Ashram of Amrit Nam Sarovar at Le Martinet in the French Alps, where she also manages the administration of the Ashram and School. She is the lead trainer on Amrit Nam's Level 1 teacher training programmes in London, Estonia and Egypt, and is also course organiser for the London training.
Har Nal is devoted to spreading Yogi Bhajan's teachings and especially dedicated to uplifting and empowering the individual, and to this end she travels widely to teach and give workshops. Her regular workshops include the Eveil de Soi retreat at Le Martinet with Karta Singh and Divine Women workshops in various locations.